Towing Areas Surrounding Black Hills: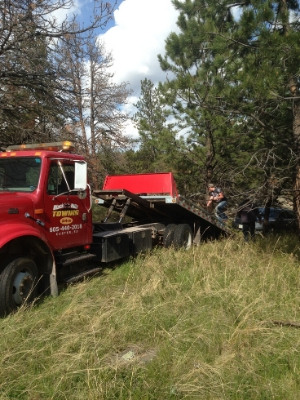 Somewhere in the Black Hills of Dakota… somewhere along-side a desolate stretch of unforgiving road sits the driver of a broken-down vehicle, stranded… but not helpless. No matter how big the rig, or how late the hour, there is a friend he or she can call… Black Hills Towing LLC.
Whether local resident, vacationing tourist or traveling professional just passing through town, those in need of light, medium or heavy duty towing in Hermosa SD and surrounding Black Hills areas can rest easy knowing they are never alone with Black Hills Towing LLC nearby and ready to be their "light in the darkness". The beautiful SD landscape can become a lonely, threatening place when you find yourself unexpectedly stuck in the middle of it with no transportation. That's why Black Hills Towing LLC makes it their business to provide fast, friendly and reliable service. Whether in the middle of a dark and snowy night, or at high noon on hot summer day, Black Hills Towing LLC will be there to get you off the side of the road, and help get you back on your way. Utilizing state-of-the-art equipment and employing only highly-trained technicians, Black Hills Towing LLC consistently provides professional, high-end towing services comparable to any found in the big city, but seasoned with a healthy dash of small-town pride and good-neighbor values. As local residents themselves, folks at Black Hills Towing LLC respect the land, the community, and most importantly the responsibility placed upon them by the emergency needs of motorists traveling in and around the Custer County area, and it is their privilege to confidently meet those needs on a daily basis.
The young and old alike in Custer and Rapid City, as well as Hill City, Hot Springs, Keystone, Edgemont and Hermosa SD have come to rely on the dependability of the courteous staff at Black Hills Towing LLC, whether it be for light, medium or heavy duty towing Hermosa SD. Black Hills Towing LLC has been in business for 12+ years. Unlike other towing services, Black Hills Towing LLC has the means and the know-how to reliably tow the largest RV camper or Big Rig to safety, (not to mention any size auto or truck), making Black Hills Towing LLC the best and brightest choice for any and all of your surrounding Black Hills and Hermosa SD towing needs.
Heavy Duty Towing in Hermosa SD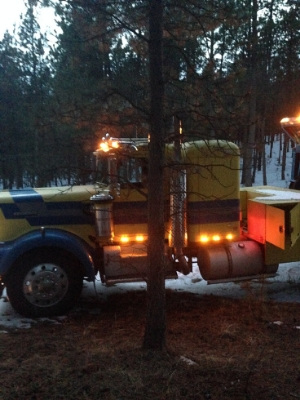 For 24-hour, seven days a week towing services, whether emergency or not, residents in the Hermosa, South Dakota area and surrounding Black Hills areas know to call on Black Hills Towing LLC. Black Hills Towing LLC specializes in all light, medium, and heavy duty towing, and they are available whatever time and whatever day they are needed. Black Hills Towing LLC is near the famous Crazy Horse Monument, making them very easy to find and identify. Residents and visitors will not have a hard time locating their best towing option in the Hermosa, SD area.
The owner and operator of Black Hills Towing LLC, Mr. Jeff Johnson, has safely installed himself in the technological age of business constancy and development by allowing the company to be available to the public via email, through his personal address. This ensures that, no matter what method or mode you prefer, whether phone, face to face, or electronic, you are able to reach the best towing company in the Hermosa, SD region effortlessly.
In addition to the light, medium, and heavy duty towing that the company provides without fail, they are also available for lockouts. In addition, as long-time members and contributors to the community, they can also direct their clients to the best locations for anything else they might need while in the area, from emergency services, eating locations, and lodging.
After 12+ years in business in South Dakota, Black Hills Towing LLC has shown themselves to be an integral and necessary part of the landscape, and with only four employees on a regular basis, the company is able and willing to cross train every member of the team, so that clients are never at a lack for exceptional service. If anyone needs billing assistance or towing assistance or directions with their vehicle, anyone in the Black Hills Towing LLC office is able and ready to help at a moment's notice. That is the real mark of success in a small, personally owned business.
Everyone at the towing company treats everyone else like family, and that extends to the community and members around them. For the best service in towing and assistance, Black Hills Towing LLC can't be beat.