Dependable Towing in Custer SD
South Dakota can be a lonely and forbidding place. Locals, tourists and long haul truckers travel regularly travel long stretches of highway between towns. In the vast majority of instances, nothing untoward happens. Occasionally, however, a water pump gives out, a radiator springs a leak or some other small mishap occurs within you automobile or truck. Ordinarily, this would be no big deal. A local towing company would tow the vehicle to a mechanic and it would be fixed within a day or two. Instead, hundreds of miles from home, reliable and expert assistance is difficult to find. Towing in Custer SD from Black Hills Towing LLC offers just such assistance.
Night or day, seven days a week, without regard for the weather, Black Hills Towing LLC stands ready to provide light, medium or heavy duty towing in Custer SD. The trucks are expertly maintained and are always available for immediate, 24-hour emergency dispatch. South Dakota is a big place but if you're near Custer SD, our trucks can usually arrive within 30 minutes. The drivers will then quickly hoist the vehicle and safely bring it to the required destination.
Locally owned and operated, this company understands the SD landscape and therefore stands ready to deliver superior service on short notice. It depends on the repeat business of its valued local customers. When in need, call Black Hills Towing LLC for any light to heavy duty towing Custer SD. Dependability is our byword. In any crisis, at any time of the day or night, count on our trucks to deliver superior service in the middle of the worst Dakota snow storm. If anyone can get there to help you, the drivers of this towing service can.
Heavy Duty Towing in Custer SD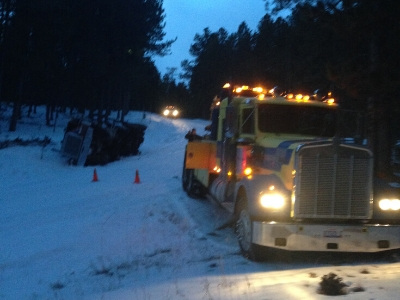 Black Hills Towing LLC also understands the plight of the long haul trucker. He is a stranger in a strange land always in need of some friendly guidance. The urgent need to provide quick, affordable heavy duty towing in Custer SD to these intrepid souls is not lost on this company. Not only will this company's drivers assist in the towing of the vehicle, they'll give some good advice as to other needs.
Black Hills Towing LLC is the answer to any towing need in the Custer, S.D. area. Specializing in light, medium, and heavy duty towing, this company is open 24/7 with emergency service available at any hour. The locals have learned to rely on it. Tourists or truckers can also be confident that their faith in the dependability and timeliness of Black Hills Towing LLC is well founded. Don't hesitate to give Black Hills Towing LLC a call at (605) 440-2018 for any light, medium, or heavy-duty towing!